SEO for ecommerce product pages: The best practices and things to avoid!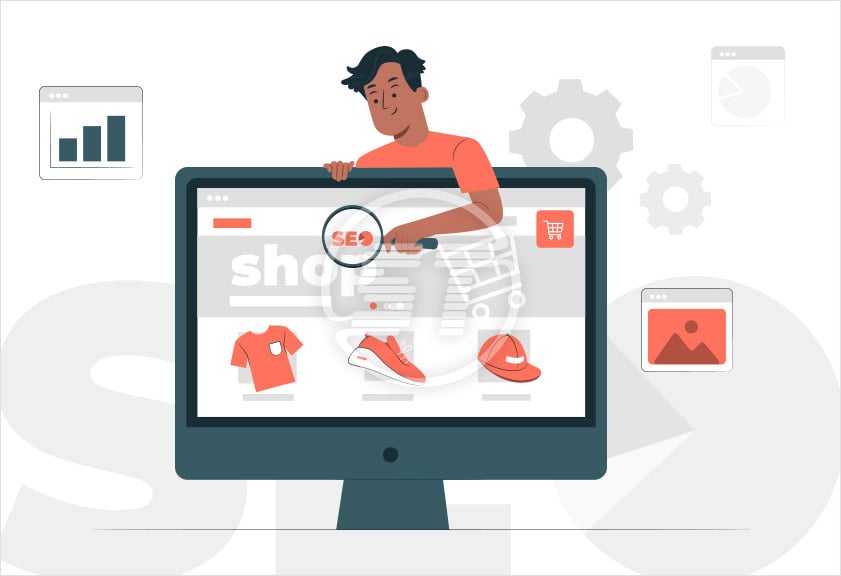 Ecommerce product pages' SEO needs special attention because these pages are the cornerstones of an ecommerce store. They convey information about products and help convert visitors into buyers. You can consider product pages as your sales pitch to attract website visitors.
There are a substantial number of ecommerce websites available on the internet, out of which, how many are your competitors? Well, you must be having ample competitors with similar product-line. Thus, to survive competition, you need to apply more reliable strategies that assist your ecommerce store to stand out and earn more loyal customers.
Right from content and visual elements to the links on the product pages, myriad factors need to be optimized in order to boost user experience, visibility among users, and ranking in search engines.
Read the article to know SEO for ecommerce product pages including best practices and mistakes that you must avoid.
YOU MAY ALSO LIKE: Ecommerce UX Best Practices
SEO for Ecommerce Product Pages & Its Importance
When it comes to ecommerce SEO, it is not about a single page, but a whole big site with several product pages. And obviously, they impact one another's performances which is why every page optimization is necessary.
Search engines review your entire ecommerce website; not a single page will be left behind unless you've kept any page under noindex tag or page have some certain issues. While optimizing product pages, do not overlook category and product pages competing for the same keywords. It will impact page ranking.
Moreover, ecommerce product pages require regular updates by removing expired or discontinued products and almost alike product variants. Updating all this information on time in each product page can be overwhelming but mandatory for product page SEO.
On-Page SEO for ecommerce product pages
The immense popularity of ecommerce stores makes this industry more competitive. Reaching your target audience and persuading them to buy from your ecommerce store is not an easy task anymore. You need to follow SEO best practices and keep executing them in a loop to maintain the store's performance.
1. Keyword strategy should be aligned with product names
The more accurate keywords you will use in your product pages; the more potential traffic will land on these pages.
Instead of using one- or two-words keywords, try including more information in keywords to make it comprehensive for users. For example, if you are dealing into cosmetics, you can use keyword for a lipstick brand as 'Maybeline 234 Lilac Matt', which is a good keyword from SEO point of view. Here Maybeline is brand name, 234 is its model number, lilac is colour and matt is its variant. Thus, if a user will search for lilac color lipstick, the product can appear for that query.
Also, product pages and category pages should not compete for similar keywords. To avoid such situations, pages must be optimized for product specific queries.
2. Create URLs that have correct product descriptions
Keeping URLs simple and relevant helps users and Google understand your site structure easily. If your snippets will reflect users' queries, they are most likely to click on your URLs. And most importantly, URLs should be self-explanatory for users and search engines.
You can add brand names and some other specifications along with product name to make URLs more descriptive. If an URL has the primary keyword, Google is more likely to rank higher such product pages.
Check auto numbers, and characters and remove them to protect the unwanted length of the URLs.
3. Write product titles that are click-worthy
To optimize product titles, include product names and keywords in them. Try to keep titles within 60 characters; thus, they will appear unbroken in search snippets. A descriptive title gives a clear idea of the products to the users, and they are most likely click on such titles.
4. Keep product and meta description unique.
Any idea, why your product pages are not performing well in SERPs, even after putting in much effort?
The reason can be poor presentation or incomplete/wrong description. A well-written product description helps users understand the products and persuades them to make up their mind to buy the product. Adding most relevant primary keyword into product description is a SEO practice; however, over-stuffing of keywords can be harmful.
Similarly, a purchase intent meta description attracts users and makes them click on the link. Meta descriptions must be concise, optimized, and straightforward. If product and meta description is unique, it helps your product pages to rank higher in SERPs.
5. Mark up product pages with structured data
Structured data in SEO is important because it provides extra context to search engines that help your product pages to stand out. This is called structured data and it works in your favor by helping search engines to understand the content and purpose of product pages, provides a more prominent appearance in organic search listings.
6. Don't forget to include the FAQ section.
Product pages must have a FAQ section, where you list down all the common queries about products. It helps customers to clear their doubts before they purchase the product. FAQ is a handy guide for customers to understand more about a product.
7. Share customers' reviews and comments.
Don't hesitate to share reviews and comments from real customers. A product with more reviews is likely to sell more than products with fewer reviews. Potential customers check reviews before they buy a new product. The reviews give them a sense of assurance that the products and brands are reliable.
8. All media files should be optimized.
Adding visual content on product pages makes them more appealing. But make sure you optimize all the media files to avoid performance issues. Images, infographics, charts, videos, diagrams, GIFs, screenshots, etc. must be optimized for SEO. Search engine ranks such optimized content which has relevant visual elements that demonstrate the features and benefits of products.
9. Configure breadcrumbs for product pages.
Breadcrumbs are the navigational links that help users to navigate through your ecommerce product pages and they appear on the top of the page. Breadcrumbs let users know where they are in your ecommerce store, and they can easily return to any place if they've to go back. It also generates internal links among pages and boosts product page SEO.
YOU MAY ALSO LIKE: Breadcrumbs in Web Design
10. Encompass more product options with 'You may also like' section
This section is a promising idea to engage those visitors who are confused or wish to see more products. They might find some additional products interesting and buy them. Related products not only increase sales, but they also have additional SEO value. They are the links to given products pages, which build robust internal linking.
11. Provide SEO-friendly quick view functionality
This functionality can be implemented with model windows to offer a quick look of a product with its information in it to save user's time. Quick view provides more content and context to search engines and users and improves SEO of the product page.
YOU MAY ALSO LIKE: Customer Experience vs User Experience
12. Create internal algorithms to show products in a list
If a user lands on your category page and if first product in the product list is not favourable for you, then somewhere you are lacking in encashing the opportunities if the user will leave the page without taking an action. Design such algorithms that help you put profit-enhancing products before others in the product lists.
You can measure some metrics like sales statistics, percentage margin, stock availability, user's location, etc. to decide how to list the products.
Technical SEO for ecommerce product pages
You should audit your ecommerce product pages every now and then to make sure there is no technical error that will influence the SEO of your website. Issues like duplicate content, broken links, 404 error, wastage on crawl budget, etc. harm ecommerce SEO badly.
Reduce redirects, minify CSS, HTML & JavaScript, and enable browser caching to improve page speed.
Ensure to implement XML sitemap and robots.txt files to let Google know about your product pages.
To avoid the duplicate content issue, add canonical tags. These tags improve product pages' SEO by informing Google that a specific URL has original information. This is helpful for huge ecommerce websites with several pages and colossal data.
Optimize your ecommerce crawl budget to get better rankings in SERPs.
Fix all the broken links and errors (like 404, 302. etc.).
YOU MAY ALSO LIKE: Technical SEO for Ecommerce
Ecommerce product page SEO mistakes to avoid
Don't remove the seasonal pages once the deal or season has passed. If that seasonal page builds ranking and traffic for your ecommerce website, then use that page to continue with some other content or deals.
Don't use automated optimization because it may have some unwanted variables and automation is also not unique.
Don't pull out-of-stock pages; let such pages be live and link them with other product pages until the product is back in stock.
Don't use structured data with errors.
Don't use messy, weak call to actions.
Don't forget to internal link pages.
Don't miss to optimize product pages for mobile phones.
Wrapping up
Optimizing product pages is essential in order to have a thriving ecommerce business. Your ecommerce store cannot have good ranking in search engines if you avoid technical and on-page SEO.
"SEO is like a resume, you polish it, so you have your best foot forward." - Matt Cutts
Thus, start polishing your ecommerce product pages' SEO to get the most out of it!
Ecommerce SEO is complex and should be done by experienced SEOs. We offer a full suite of ecommerce development services that can deliver incredible business outcomes and take your business to new heights. We employ rigorous SEO checklists and audits for our ecommerce websites. Understand the ecommerce customer journey and develop strategies best suitable for customers and your business.
We optimize the product pages with engaging product descriptions, optimized images, secured payment gateways, and the best bottom-of-the-funnel experience to the website visitors. This reduces cart abandonment rates and drives sales. We also improve your organic search engine rankings with our advanced ecommerce SEO services. Our ecommerce SEO services are also powerfully loaded with the latest updates and trends in the market to meet the unique challenges of your ecommerce customers.
Skynet Technologies is SEMrush Agency Partner who provides white hat SEO services which are Google penalty proof so your ecommerce store can make more revenue. Fill out the form below to request a free quote now or get in touch with us at hello@skynettechnologies.com.