Bagisto Customization – All-in-One Guide!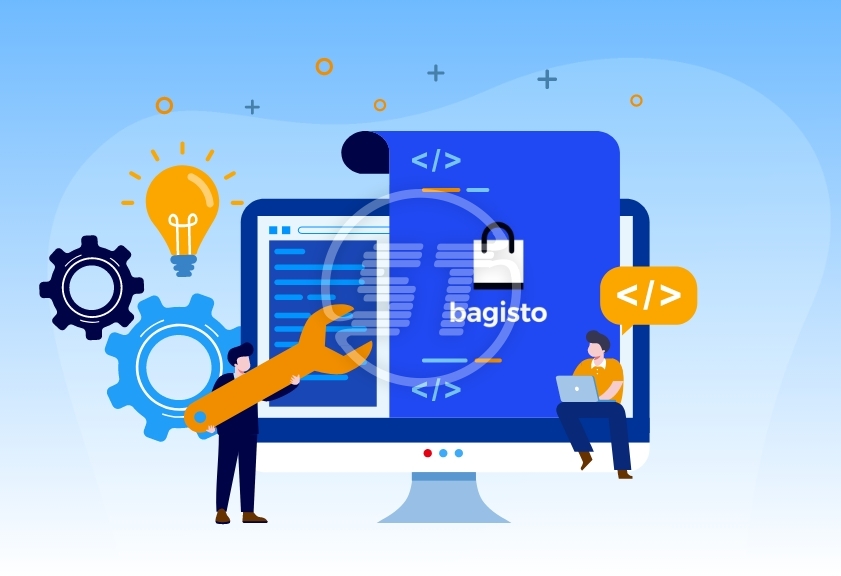 Of late, there has been a lot of buzz around ecommerce for Laravel. Laravel Bagisto is one of the most popular and fastest-growing Laravel ecommerce packages. It is open-source offering the most relevant and exquisite shop features required for setting up an e-commerce store. Many small to medium-sized stores go for Bagisto as it is one of the simplest platforms currently available in the market. It used Vue.js as its front-end and comes with many customization options to help the merchants to offer a personalized experience to their customers.
In this article, let us understand what customization options are you can have if you go for Bagisto.
1. Store design customization
It starts with the theme. Bagisto ecommerce store design does come with a default theme and not everyone would find it appealing to their niche and hence might want to change it as per their own requirements. Here comes the Bagisto custom style extension that provides a great way to style the Bagisto using your own custom CSS. More and more users have been going for a customized Bagisto theme and it is super easy as you can do it with just a few lines of configuration code.
2. Custom Development
With Bagisto, you can have out-of-box functionality through the customizable structure by creating modules and packages for the Bagisto ecommerce store. The framework built on Laravel and Vue.js is a viable option for building online stores and also migrating physical stores to digital platforms as per the customized industrial needs.
3. Third-party API Integrations
Bagisto web APIs are a medium for using the features of the core Bagisto system. Bagisto supports REST API, provides access to performed CRUD operations, has options for filtering the responses based on attribute fields, etc. With third-party API integrations, you can easily have customer authentication with login details. This framework also supports the pagination that helps to increase the performance of the application.
- If you want to provide your users with a mobile-friendly experience, you can go for PWA applications. You can use this to integrate a digital shopping mobile application within your Bagisto store to help the customers make a purchase.
- You can also integrate Customer Relationship Management Systems like Salesforce, HubSpot, etc. This helps businesses manage their relationships with their customers to achieve unprecedented business growth.
4. Payment Gateway Integrations
Bagisto supports PayPal payment gateways by default. We also support a bunch of other payment gateways that are safe and encrypted for the customers to make payments seamlessly via these payment options and cards. By using APIs for integrating the payment gateways of your choice, you can make sure your customers can interact with the payment gateways anywhere. You can also multicurrency support, multilingual support, recurring billing as part of the Bagisto store.
Stripe Payment Gateway
RazorPay Payment Gateway
Mollie Payment Gateway
Accept Payment Gateway
Authorize.net Payment Gateway
CashU Payment Gateway
5. Custom Analytics
With IoT, we also gather data for marketing analytics, monitor search trends, observe social patterns, and target better. This helps you to have deeper insights and work on delivering a great user experience on your ecommerce store.
6. Core Web Vitals
Google's Core Web Vitals which have become the main page ranking factor now is going to provide you the boost for your Bagisto ecommerce store. You can have a continuous improvement of your website and also analyze the root cause of your customer's experience.
7. Bulk Ordering
We have a Laravel Bulk Add to Cart extension that allows the customers to add bulk products to their shopping cart in different quantities. The customers can also have different price points for all these bulk products and find all the bulk products with the total amount on the shopping cart page.
8. Shipping Customization
Also, you can build custom shipping methods in your Bagisto ecommerce store. This helps you to offer customers a diversity of shipments when they proceed to checkout. Also, this helps you to reach out to global marketplaces. We can create custom shipping methods in Bagisto using a package generator and manual way and also integrate Bagisto multi-vendor marketplace.
9. A/B testing
You can create customized and personalized ecommerce web pages. See what is best resonated with the customer by a quick test through landing page A/B testing. You can find out what is the best performing page and show only that page to all the users of your Bagisto store. You can showcase your signup flows, product pages and see what pages have pushed the customers down the funnel.
10. AI-Based feature customization
Search by Image - More than 61% of the customers prefers visual search. Bagisto is powered by TensorFlow and this enables you to provide native support to Machine learning and an AI-based seamless search experience to your customers. They can have an improvised product search by image. The users now can find the most relevant product based on visual or image search. Any discrepancies based on text-based search can be avoided. This enhances the customer experience by a great deal and fetches you higher ROI.
Voice Assistant - As 20% of the mobile queries are voice-based, you need to incorporate this into your Bagisto store. Bagisto helps you to have a voice-based search in addition to a traditional text-based search. It is more customer friendlier as it eases the search and order placement process for the customer. It provides you a competitive advantage in addition to improving the customer experience. With AI and speech recognition enabled technology, one can include voice search functionality in many devices.
Chatbots - AI has transformed chatbots into virtual customer assistants for your business. With Bagisto, you can have chatbots for not just basic functions but also act as 24*7 support to businesses with AI-based query analysis so that it can offer reliable answers to any customer queries. At the Bagisto store, you can have a fully functional service team for handling multiple customers without any hassles. They can enhance the user experience through chatbots' prompt replies.
Personal Recommendation - AI-based search engine helps you in offering personalized recommendations for the customers. The search algorithm observes patterns, preferences, and liking of each customer and automatically provides the best customer experience by offering personalized recommendations. Users often rely on multiple filtering options to find the relevant products finds AI-based recommendations much easier.
Check on Fake Reviews - Combat the fake reviews posted about the products and services on the web. We have too much susceptible content on the web and this has to be curbed especially when it comes to your ecommerce store. With AI-based technology, one can identify the sham reviews and any inconsistencies and get rid of them from your Bagisto store.
Dynamic Pricing - Do you find dynamic pricing tedious? But it is inevitable given the cut-throat market conditions wherein your competitors are already incorporating dynamic pricing. AI provides you the information regarding the market scenario, current stock, competitors' pricing, seasonal demands, etc. to make your products appealing to the customers.
Summary
If you are looking for a Bagisto customization, The aforementioned checklist is a good thing to start with.
Skynet Technologies is an official solutions partner of Bagisto which is in recognition of our expertise and experience in providing the best and customized ecommerce stores to our customers. You can take a look at our comprehensive Bagisto development services. If you want to have a quick quote, you can reach out to us by filling this form.