SEO Forecasting – Everything you need to know about!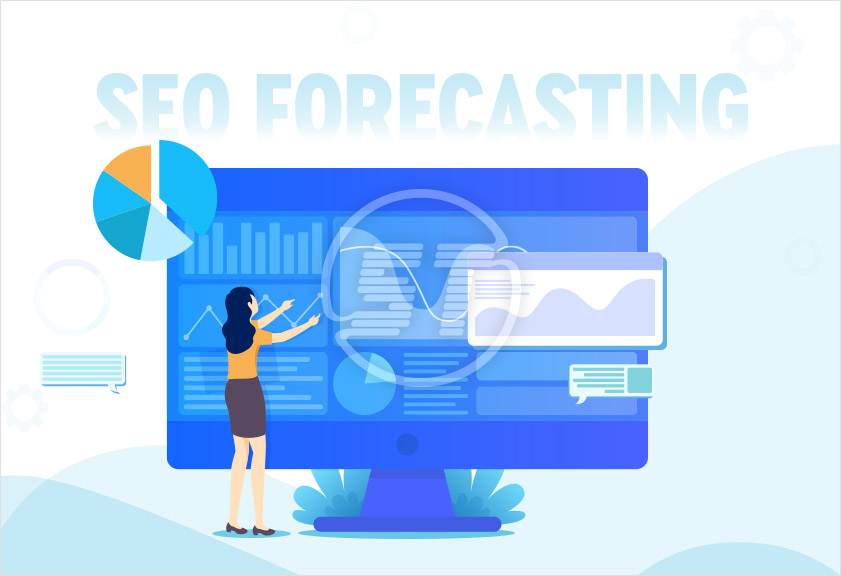 SEO forecasting is not about knowing your website's future, but it is about foreseeing the business website's future needs and taking yielding steps in the present to achieve the future goals. And when you map the future needs, it navigates you to take precautionary or corrective measures to make your website future-proof. Isn't it great?
With the help of SEO forecasting, you can plan and apply more effective SEO strategies considering business vision and goals. Moreover, if you know the potential upcoming issues, you will be able to allocate the available resources accordingly.
This seems interesting, yet it is an intricate process. When SEO forecasting lets you know the change in traffic volume on your website, how will you decide whether it is a matter of concern or a point of celebration? When you know, how to create well-planned digital transformation strategies, what about their execution? How and when to apply them efficiently to get desired SEO results?
These are a few critical questions, and we need to have their answers to achieve successful SEO upshots.
SEO forecasting – isn't it a compelling topic?
Forecasting always grabs attention because it lets you know what is going to happen in the future.
Similarly, SEO forecasting is a process of finding some tentative yet interesting aftermaths an ecommerce business can face, or more precisely, it is a way to preview the potential conversions and ROI. It enables you with some solid justifications on organic search insights and traffic data you get from different sources. It relies on past and current performance data to forecast the future traffic volume on the website.
Small and big, every organization can use this method to determine future decisions. Google Analytics is one profound tool that allows businesses to get an insight into past and current traffic data and based on that future maneuvers can be decided.
Similarly, Ahrefs and Moz allow you to run scripts to know the predictions about future traffic on your website and competitors' websites. And there is more to it. So, let's dive deeper into SEO forecasting.
What is the need for SEO forecasting?
So that you can unearth the inefficiencies in your current system

Website results in SEO are unpredictable. Creating impactful marketing goals and applying strategies accordingly is not a cakewalk. It takes much time and sweat to get desired results from SEO. Do you know, most of the time, the marketing strategies don't work for some or other reasons? To find these reasons, SEO forecasting helps you to analyse your current process precisely. And once you discover the root cause of problems, you can fix them.

It assists in improving your sales pitch

With the help of SEO forecasting, you can predict the prospects of your business. You can foresee the potential issues or benefits of applying some or other online marketing strategies. Moreover, you will be able to appropriately define the weaknesses or strengths of the business process and improve your sales pitch to impress the customers.
Thus, the main idea behind SEO forecasting is to present information before your client or team regarding how much website traffic they can expect in the future, how well marketing strategies will be performing, and most importantly, what will be the future ROI (approx.).
SEO forecasting models
The three key models or ways for SEO forecasting are:
Keyword forecasting

In this model, marketers use keyword search volume and average click-through rate (CTR) to discover website traffic. First, you need to find out the average search volume a target keyword gets every month and the estimated CTR for each ranking position. Multiply the keyword search volume with CTR to know the estimated website traffic. (P.S.: CTR drops as we move from position one to three, four, or other down positions.)

'Advanced web ranking's organic CTR history' is a tool to pull the average CTR by positions. Keyword forecasting helps in determining the average traffic on your website on monthly basis. Using this method, you can employ more significant keywords to improve the ranking and hence traffic.

Statistical forecasting

This type of forecasting uses historical data and mathematical formulas to predict future traffic to your website. Basically, statistical forecasting uses linear regression and exponential smoothing. The purpose here is also the same as keyword forecasting and that is to predict the future by using the past data. But this model has more accurate outcomes because it is custom for your website, and it looks for whole site performance in each period and not for specific keyword performance.

Google sheet forecasting

This model combines both keyword and statistical models to provide the SEO forecasting data. To perform forecasting using Google Sheets, you need tools like Google Analytics, Google Search Console, and SEMrush or Ahrefs.

Google Analytics provides you with organic traffic details for each month. Pull two to three years of historical data to create a more effective and accurate forecast. For new websites, pull whatever data is available. Then discover seasonality and outliers' data numbers. Seasonality is some specific busy or slow period and outliers are data sets where you get to see unusual highs or lows in the website traffic.

Once you are done with the data pulling, start forecasting by the 'Forecast' feature in Google Sheets. You can add keyword volume, average CTR, and a list of target keywords. The forecast feature will help you to know the estimated traffic for different ranking positions and each target keyword as well.
Benefits of SEO forecasting
Target keyword performance helps you to choose the keywords wisely and the right keyword usage increases the conversion.
It helps you to set standards with measurable targets to increase the ROI.
You can outrank the competitors and move ahead of them by achieving desired SEO results.
If competition is performing well for some keywords, it will be helpful for you as well.
SEO forecasting is a popular way to predict the ROI. It helps you to understand what the outcome of your marketing strategies will be.
Assists in proper marketing budget allocation.
Helps in understanding the business goals and if existing goals are not achievable, then tweak them for the benefit of the business.
Factors that affect SEO forecasting
First-party data: The data you get from Google Analytics or Google Search Console is the first-party data. This is the most accurate and granular data about your website, which affect the forecasting.

Third-party data: To know about the competition, third-party data is important. Tools like Ahrefs help you to get this data. Because competitor SEO analysis is a factor to consider for desired results.

Historical trends: The past data affect the predictions; in fact, the prediction is based on past data and events. The seasonal numbers, outliers, and other numbers decide the forecast.

Growth: For running successfully, a business must map its algorithms more precisely to determine on-target strategies.

Events: As you keep noticing the past events, you should also keep track of upcoming events that can impact the traffic on your website.
These are some factors that influence all the forecasting models. It is required to use the models and these factors intelligently for concise SEO forecasting.
Get going with accurate SEO forecasting!
While doing SEO forecasting, always remember that the forecast is based on the current circumstances and that may change. There can be an unexpected change in SEO and PPC strategy with time, which may impact the organic website traffic. Thus, the prediction is not 100% and the only element on which you rely for the future strategy. Yet, it cannot be ignored to define the future SEO strategies to earn organic traffic on a website.
SEO is an exciting element, without a doubt; wherein you unearth the problems and fix them with proactive approaches. Sometimes you succeed and there are points when the ideas do not work. Successful steps are motivating; run them in a loop for more victorious results. And analyze the failure to pivot them.
Effective SEO forecasting requires determination and dedication along with the right campaigns!
SEO - Search Engine Optimization, the term is earning remarkable significance day by day in its relevant field of online business. Every business needs to market its services and products in a strategic way to be competent enough in the market. At this point, SEO plays a significant role in forming an effective strategy for the growth of a business. If you are also looking for the best SEO service to improve your business by presenting it as digitally viable and well-positioned then Skynet Technologies, a leading digital marketing agency, is the right place to approach.
We are proud to be recognized as the SEMrush Certified Agency Partner. By integrating Google Analytics, SEMrush, and our AI-based predictive analytics tools; We help our clients to analyze traffic, customer journey reports, customer behavior, marketing funnel, and more to redefine and delight their customer experience.
Get in touch with us at hello@skynettechnologies.com or submit the following request free quote form to know more.